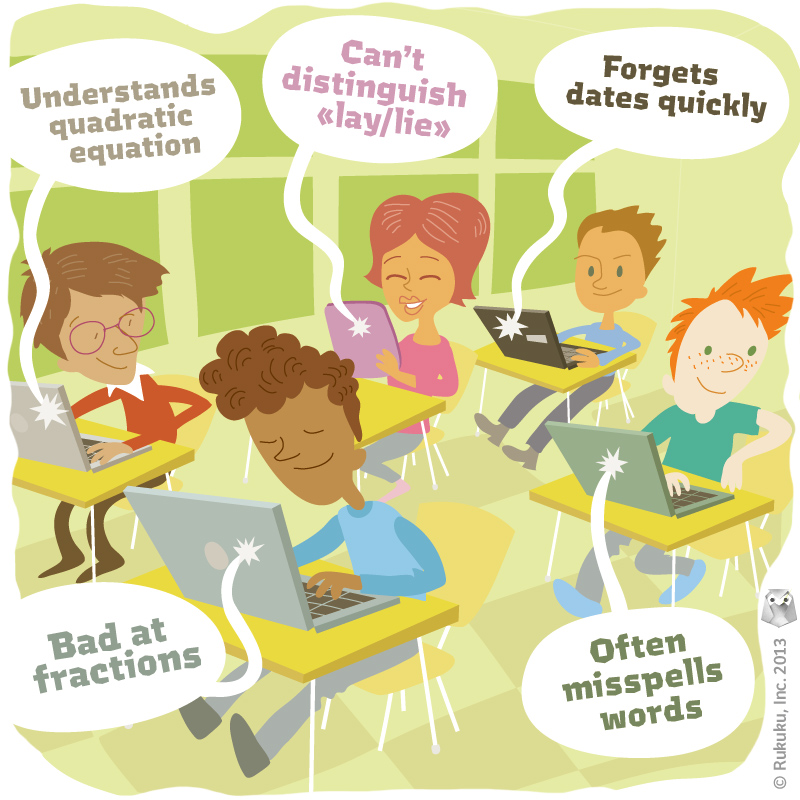 Image source: Rukuku, Inc.
From an article by Marcelo Tibau
https://tibau.org/2016/11/21/educational-data-mining-and-learning-analytics/
Educational data mining

The need for understanding how students learn is the major force behind educational data mining. The suite of computational and psychological methods and research approaches supported by interactive learning methods and tools, such as intelligent tutoring systems, simulations, games, have opened up opportunities to collect and analyze student data and to discover patterns and trends in those data. Data mining algorithms help find variables that can be explored for modeling and by applying data mining methods that classify data and find relationships, these models can be used to change what students experience next or even to recommend outside academic assignments to support their learning.

An important feature of educational data is that they are hierarchical. All the data (from the answers, the sessions, the teachers, the classrooms, etc.) are nested inside one another. Grouping it by time, sequence, and context provide levels of information that can show the impact of the practice sessions length or the time spent to learning – as well as how concepts build on one another and how practice and tutoring should be ordered. Providing the right context to these information help to explain results and to know where the proposed instructional strategy works or not. The methods that have been important to stimulate developments in mining educational data are those related to:
Prediction, for understanding what behaviors in an online learning environment, such as participation in discussion forums and taking practice tests, can be used to predict outcome such as which students might fail a class. It also helps to forecast or understand student educational outcomes, such as success on posttests after tutoring.
Clustering, i.e. finding data points that naturally group together and can be used to split a full dataset into categories. Examples of clustering are grouping students based on their learning difficulties and interaction patterns, or grouping by similarity of recommending actions and resources.
Relationship, i.e. discovering relationships between variables in a dataset and encoding them as rules for later use. These techniques can be used to associate student activity (in a learning management system or discussion forums) with student grades, to associate content with user types to build recommendations for content that is likely to be interesting or even to make changes to teaching approaches. This latter area, called teaching analytics, is of growing importance and key to discover which pedagogical strategies lead to more effective or robust learning.
Distillation, which is a technique that involves depicting data in a way that enables humans to quickly identify or classify features of the data. This area of educational data mining improves machine learning models by allowing humans to easier identify patterns or features, such as student learning actions, student behaviors or collaboration among students.
Model discovery, which is a technique that involves using a validated model (developed through such methods as prediction or clustering) as a component in further analysis. Discovery with models supports discovery of relationships between student behaviors and student characteristics or contextual variables, analysis of research questions across a wide variety of contexts, and integration of psychometric modeling into machine learned models.

Learning Analytics

Learning analytics emphasizes measurement and data collection as activities necessary to undertake, understand, analyze and report data for educational purposes. Unlike educational data mining, learning analytics generally does not emphasize reducing learning into components but instead seeks to understand entire systems and to support human decision making. It draws on a broad array of academic disciplines, incorporating concepts from information science, computer science, sociology, statistics, psychology, and learning sciences.

The goal is to answer important questions that affect student learning and organizational learning systems. Therefore, it emphasizes models that could answer questions such as:

    When are students ready to move on to the next topic?
    When is a student at risk for not completing a course?
    What is the best next course for a given student?
    What kind of help should be provided?

As a visual representation of analytics is critical to generate actionable analyses, the information is often represented as "dashboards" that show data in an easily digestible form.

For the complete article visit
https://tibau.org/2016/11/21/educational-data-mining-and-learning-analytics/